Thursday, March 26, 2009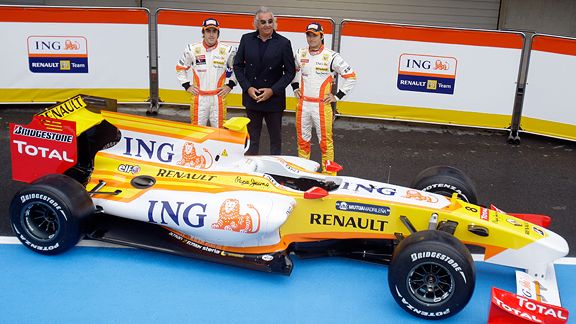 Renault: 2009 regulations could lead to shake-up :
Next season will see the introduction of several key changes to the Formula One regulations. And Renault's executive director of engineering Pat Symonds believes that these adjustments could bring about a shift in the standings, as teams struggle to balance their 2008 development work with the need to prepare for the future.
Revised aerodynamic rules, the return of slick tyres and the introduction of KERS technology means that Formula One teams should already be hard at work developing their 2009 car. Symonds, however, whose squad is currently embroiled in a tough championship fight with other midfield teams, including Red Bull, Williams and Toyota, is aware that they also need to continue development work for their '08 machines.
"We are a big team but we are not big enough to handle two major projects and I think some of the people who are maybe struggling a little bit this year, for example Honda, I think have pushed a lot more effort into next year than we have been able to," explained Symonds during a team podcast on Renault's official website. "And we may see a little bit of a shake-up of the establishment next year.
"If you are fighting, as we are this year, then you have got to keep the development. And there is nothing wrong with (that) if it is all applicable to the following year's car. Unfortunately next year's car is a very, very different animal, completely different aerodynamic rules, the KERS system is introduced, slick tyres - lot and lots of things that will make it a very different car. So it is all the more important that we start early on it. And that makes it a very hard for us to do."
Despite the difficulty of dividing resources between next season and this, Symonds is confident that the developments Renault plan to introduce at the forthcoming Canadian Grand Prix will change the French team's performance for the better.
"There are other parts that are non circuit specific that are coming in Canada both in aerodymanics and in suspension, which will remain on the cars for other circuits as well, whether they be high, low or medium downforce," he added. "So there's a lot of work going on, a lot of exciting things in the pipeline.
"We need something to get up there and be challenging the top three but I do believe those things are coming. We have gone from Australia where we had a car that was definitely not the car that we wanted and not the car that we needed, to a car that really is a great deal better. And all the things that were put in place to make the car better are still in place and still producing results, so in terms of performance I actually feel very confident."
Renault are currently seventh in the championship, level with Toyota on nine points, six behind Williams and Red Bull.
Article Source : http://www.formula1.com/news/
0 Comments: